::: MAIN INFO
• Born: 5.2.2009
SLRško- 002254
CEA/PRA/KAT free, MDR1 -/-, HD-A/A, DM N/N
• Slovenian Junior Champion, JCH SLO
• Croatian Champion, CH HR
::: ABOUT RUBY
Ruby was born on the 5th of February 2009 to father JCH Born to Be Idol and mother CH Androma Goddess Of Winter Days. She was the only girl out of 6 puppies. 1 boy was also tricolour, the rest 4 brothers were sable :)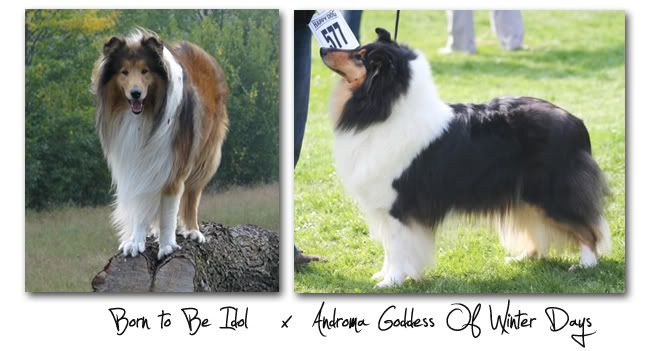 The decision I took, to have Ruby, was totally unexpected. I was dreaming of having another collie, a tricolour, which is my favourite colour. But I wasn't thinking of having one so soon! My favourite female at Ruby's breeder is actually her mother, Luna and I love the character of Ruby's father Val. It was the perfect combination for me.. and after seeing photos of the puppies and visiting them, I decided. Ruby was coming home with me :) I guess it was fate that brought her into my life!
Lord was a bit jealous at first when she came. He didn't want to play with her and she was just her usual self as she still is now, always teasing him to play with her. After a couple of days he discovered that she's real fun and they became unseparable, really the best friends! :)
She's really a sunshine. Always a happy face, loves to cuddle and giving kisses, loves to play, especially by retrieving balls and catching frisbees and she's such an eater! She would do anything for food :) For me she's a dream come true. I love her in every way and she has grown up in such a lovely lady that makes everybody smile by making funny things!
I'll always be thankful to her breeders Andreja & Martina Velepec for giving me this amazing girl. I love their collies so so much and I wish them all the best in their breeding!
We'll see what the future has stored for me and Ruby. Fingers crossed that everything will be as we wish for and that hopefully sometime, when the time is right, Ruby will also have the chance to become a mother :)
::: SHOW RESULTS
2x J-CAC, 1x r.CAC, 10x CAC, 3x. R.CACIB, 1x BOB

| | | | |
| --- | --- | --- | --- |
| Show | Judge | Class | Result |
| 30.8.2009 CAC Trbovlje | Olga Kuprianova, RUS | puppy | promising |
| 7.11.2009 CACIB Šempeter | Barbka Novak, SLO | youth | excellent 2 |
| 16.1.2010 CACIB Ljubljana | Margit Brenner, A | youth | excellent 1, J-CAC, JBOB |
| 17.1.2010 CACIB Tromostovje | Brigita Kremser, SLO | youth | excellent 1, J-CAC |
| 21.2.2010 CAC Celje | Miroslav Zidar, SLO | youth | excellent 3 |
| 25.4.2010 Kärnten Club Show | Heidi Poschacher, A | youth | excellent 3 |
| 9.5.2010 CAC Barje | Barbka Novak, SLO | youth | excellent 2 |
| 22.5.2010 CACIB Umag | Lidija Okleščen, SLO | open | excellent 1, CAC |
| 29.5.2010 CACIB Portorož | Denis Kuzelj, BG | intermedia | excellent 1, CAC, R.CACIB |
| 30.5.2010 CACIB Portorož | Frank Kane, GB | intermedia | excellent 1, CAC, R.CACIB |
| 12.6.2010 IHA Klagenfurt | Susanne Naprawnik, A | intermedia | excellent 1, CAC |
| 13.6.2010 IHA Klagenfurt | Jadranka Smojver-Selimovič, HR | intermedia | excellent 1, CAC |
| 20.6.2010 CACIB Varaždin | Vilmos Kardos, H | intermedia | excellent 2, R.CAC |
| 7.8.2010 CAC Knin | Srečko Kukić, HR | intermedia | excellent 1, CAC |
| 7.8.2010 CAC Sinj | Jadranka Smojver-Selimovič, HR | intermedia | excellent 1, CAC |
| 1.10.2010 Euro Special Show | Edith Soltesz, A | intermedia | excellent 3 |
| 15.4.2012 CAC Barje | Gerard Jipping, NL | open | excellent 1, CAC |
| 27.5.2012 CAC Hrušica | Lidija Okleščen, SLO | open | excellent 1, CAC, BOB |
| 10.6.2012 CACIB Umag | Marija Kavčič, SLO | open | excellent 1, CAC, R.CACIB |
::: PEDIGREE
GREATGRANDPARENTS

JCH BORN TO BE IDOL

CEA/PRA/KAT free, HD A/A, dark sable

CH VIDEO STAR OF SLATESTONE

CH BRILYN MISTY SHADOW AT CAROSTAR

QUEEN'S COUNCEL OF SLATESTONE

BORN TO BE BROOKLYN

CH NIGHT AND DAY DES MARECAGES DU PRINCE

CH SILVER DREAM BLACK YUCCA

JCH ANDROMA GODDESS OF WINTER DAYS

CEA/PRA/KAT free, tricolour

CH

BLACK MAGIC VON DER ISCHLERBAHN

CH QUO VADIS FRIDOLIN FLINK

JCH LAILA LADY DE MONDS

CH ANDROMA BELLA DONNA

CH BRIGOREE ZEE

CH GLAD ALL OVER VOM HAUS RUKOPF